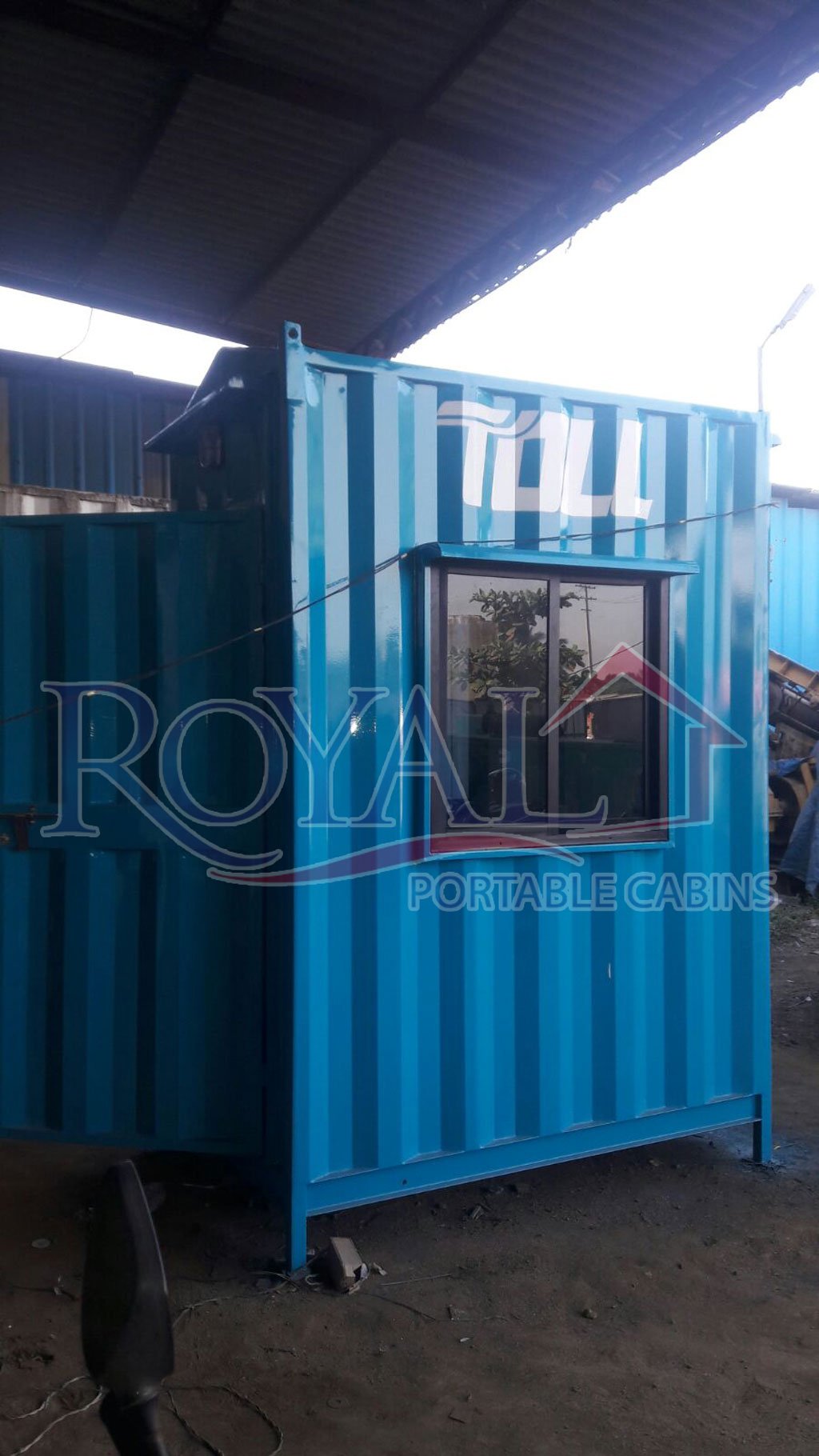 SPECIFICATION OF PORTABLE TOLL BOOTH CABINS
BASE : 125mm x 65mm "I" Beam, cross member of 100mm x 50mm I Beam, with 50mm x 50mm Angle mounted with 18mm marine ply and vinyl flooring.




ROOF : Top outer curved type M.S.1.2mm(18swg) plain sheet welded with M.S. Frame structure, top inner decorated with 9mm MDF board.




CAGE STRUCTURE & WALL PANEL : MS Frame work with square pipe & wall thickness 50mm.
EXTERIOR WALL : M.S. 1.2mm. bended sheet welded on M.S. Frame. INTERNAL WALL : 9mm. MDF board.




INSULATION : All void within the external wall, inner wall & roof are filled with R.B. Glass Wool of 50mm. thick which posses a rare combination of lower thermal conductivity & high resistance to moisture & heat.




DOOR : Frame work of 30mm x 30mm square pipe external wall made by M.S. sheet & inner wall decorated with 9mm. MDF board & suitable locking system.




WINDOW : Window shall be of aluminium black powder coated double shutter sliding type, with dark float glass & venetian blind covered by grill from the outside.




PAINT : All components are washed thoroughly with epoxy thinner, joints filled with carpage and then painted with epoxy red oxide both outside/inside & then painted with two coats of epoxy paint. (This is done to give an aesthetic look to the cabin and it also has a longer life compared to other paints.)




AIRCONDITIONING : Provision for split or window A/C is provided as per the requirement.




ELECTRICAL : All electric wiring will be concealed & fitted with modular switches & sockets, fans, tube lights & bulk head light above the door will be provided.



Related
Products
Check Out Some of Our Other Products